Dental X-rays (Radiographs) can take multiple formats to visualise different teeth of interest. To name a few these may include Periapical x-rays, which show a single tooth from root to crown and Bite-wing X-rays, which are used to observe potential decay in molar teeth.
At CT Dent our specialised X-rays include Orthopantomogram (OPG) and Cephalometric (CEPH) X-rays, providing you with full face-on panoramic and side view (lateral CEPH) dental x-rays, respectively.
OPG X-rays
An Orthopantomogram x-ray (OPG x-ray) is a wide-view, panoramic x-ray of the patients upper and law jaw, and associated dentition from root to crown, in a single image - which is not possible with periapical or Bite-wing x-rays.
A digital OPG x-ray is especially helpful in planning of orthodontic dental brace treatment, as it provides a full overview of the teeth, and highlights non-erupted and/or impacted teeth.
A further advantage of an OPG x-ray is that can help assess a patient's wisdom teeth and reveal whether a patient has potential Temporomandibular (TMJ) joint problems.
Click on the image below to open up an example of an OPG x-ray, which is visualised using the PACS Cloud Viewer and at the same time take measurements, add annotations and zoom into desired areas for closer inspection.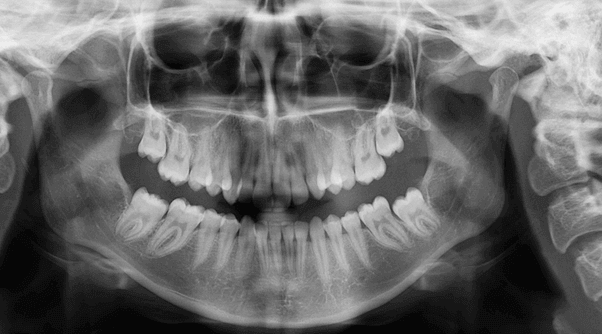 CEPH x-rays
Click link HERE for information on CEPH x-rays.
Need more information
Call Us Today
+44 (0)20 7487 5717