Radiology & Pathology Reports
A CBCT Scan DICOM file combined with a radiography report provides a comprehensive diagnostic evaluation for dental implant / orthodontic planning, and for the assessment of any pathological findings.
Digital CEPH tracing and reports are also available to evaluate dental treatment plans and dental changes.
Radiology Reports
A radiological report can be provided with CT Dent images whether a CBCT Scan or OPG x-ray. At CT Dent our board-certified oral maxillofacial radiologists review the DICOM file from your patient's CT scan, interpret the radiographs and create a comprehensive report covering the area of interest and pathology if required (as seen below). Radiology Reports are all in digital format – enabling you to instantly download a PDF version and transport it with you on your tablet or smart phone. This way you can save paper and carry your entire radiography report library with you for quick reference.
Evaluating existing implants
Bone measurements for implant planning
Sinus evaluation
TMJ evaluation
Click below image to open a Radiology Report example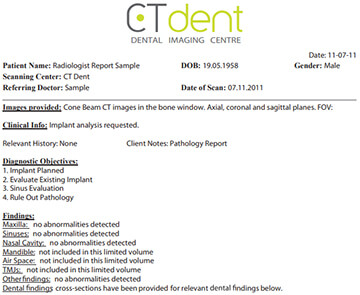 Need more information
Call Us Today
+44 (0)20 7487 5717