We're exhibiting at the ADI study club in Preston this week
February 3, 2020

We're at the ADI Study Clubs in London and Newcastle next week
February 17, 2020
Using a dental imaging centre for implant CBCT scans
Hear from Dr Amit Mistry about the effectiveness of scans for dental procedures. Amit is the Lead Clinician on the Tipton Training Implant Course.

CT Dent: How long have you been using us, and what type of treatments do you use dental scans for?
Amit Mistry: Pretty much since you first opened in Manchester and for implant cone beam computed tomography (CBCT) scans only.

CT Dent: How critical are the scans for treatment planning and procedures?
Amit: It makes planning implant cases a lot more predictable. I can reduce the risks involved as I know where the bone is and if it is in the correct spot to place an implant, and where any vital structures I need to avoid are.

CT Dent: Did you use an alternative centre or dental practice before you started using CT Dent? If so, what led you to use CT Dent?
Amit: CBCT scans were not widely available before, so I found the service fantastic for my patients, and the service has improved every year as well.

CT Dent: What has your experience been like with CT Dent?
Amit: I have a great relationship with the staff and, as I have a large referral base, they help by sending me scans in the correct format. They also support with Tipton Training CBCT days as well.

CT Dent: What has the feedback been from your patients who visited a CT Dent centre for a scan?
Amit: Everyone has been impressed with how efficient the service is.

CT Dent: Have you got any comments on the online portal and the services it offers?
Amit: I think it is fantastic and makes referrals a lot easier than by paper or telephone.

CT Dent: Do you have a preference on formats and software?
Amit: I prefer the ICAT vision, and both myself and my referring dentists can use the files to view the CBCT data.

CT Dent: What have you been able to achieve since using our service?
Amit: I can treat increasingly more complex implant surgery cases with predictability.

CT Dent: Tell us a bit more about how you work with CT Dent with courses via Tipton Training.
Amit: Alex provides information on CBCT development, how to refer for CBCT scans and shows delegates how to use the software.

"CBCT is the single biggest change in implant dentistry over the past 20 years and I feel it is essential for all those training to do implant dentistry to understand it."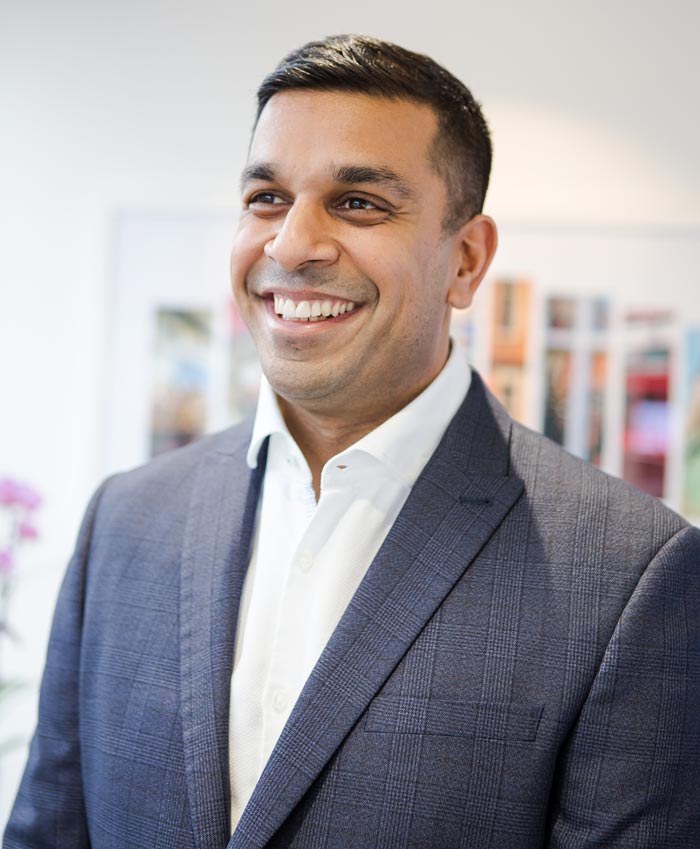 Dr Amit Mistry has undergone extensive post-graduate training and education in the field of dental implantology, from the very basic levels to advanced surgical and restorative cases. He is one of just a handful of dentists in the UK qualified to carry out zygomatic surgery, offering life changing options to his patients. He has extensive experience in surgical grafting of bone, plastic surgery of the gums and the provision of teeth on the same day.

Qualifying from the University of Manchester in 2001, and was awarded his Royal College of Surgeons Membership in 2003. Amit further enhanced his surgical training during his time as a junior surgeon and later Senior Grade Surgeon, at Blackburn Royal Infirmary, which is renowned for the quality of its academic and teaching staff in Oral and Maxillofacial surgery. Amit has treated extremely compromised cases such as trauma reconstructions which routinely requiring advanced surgical procedures such as complexed bone grafting.
Hear from Dr Amit Mistry about the effectiveness of scans for dental procedures.
Need more information

Call Us Today
+44 (0)20 7487 5717